---
---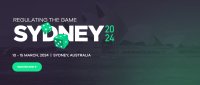 Regulating the Game brings Australian and international regulators and the sector together for an immersive 5-day program structured to build individual and organisational capability, deepen sector knowledge, and advance thinking and discussion about contemporary best practice gambling regulation
All inclusive
The full program registration is inclusive of the 5-day conference and includes course merch, refreshments such as arrival tea and coffee, morning tea, lunch and afternoon tea each day, as well as all networking events such as the Welcome Reception, Presentation Night and Gala Dinner (until sold out).
All course registrations include 12 months access to the exclusive Regulating the Game Members Area where you will be able to access speaker presentations, session videos as well as the comprehensive event gallery, shortly after the program concludes.
Ticket Types
$4,500 Early Bird - Full Program (pre 31 October 2023 registration)
$5,000 Full Program
$6,000 Interchangeable (attendance may be split between two people)
$2,500 30 under 30 - limited allocation to support future leaders and rising regulatory and sector talent (must be 30 years of age or under and working for a gambling regulator or industry - limited allocation available until sold out)
$4,000 First 3-days (Monday to Wednesday inclusive of Welcome Reception and Pitch! events) Program
$2,500 Final 2-Days (Thursday to Friday) Program
$1,750 Single Day attendance
$2,500 Online Program
$1,500 Gambling Academic or Researcher
Payment by Invoice
If you would prefer to pay via invoice, please contact us at info@regulatingthegame.com.
Multiple Registrations
We can offer a 10% discount for 4+ registrations from the same organisation. Contact us at info@regulatingthegame.com for a quote.

Media
Media organisations interested in attending the conference should send details of the journalist/s interested in attending to info@regulatingthegame.com. Where a journalist is approved to attend, conference accreditation wil be issued at the registration desk.